Since 1962, this annual celebration of aviation has been a hallmark event for both MCAS Yuma and the City of Yuma. The Yuma Airshow features both military and civilian demonstrations, modern aircraft displays, ground performances, and other guest performances such as the Patriots Jet Team, skydiving teams, and the famous Wall of Fire. The Yuma Air Show attracts visitors from across the nation and the globe, drawing crowds of more than 35,000 spectators. Strong support from the community through sponsorships and participation at the air show ensures that all guests enjoy the best quality event possible. Visitors can go on base for the day to get up close and personal with the massive aircraft and servicemembers who fly them.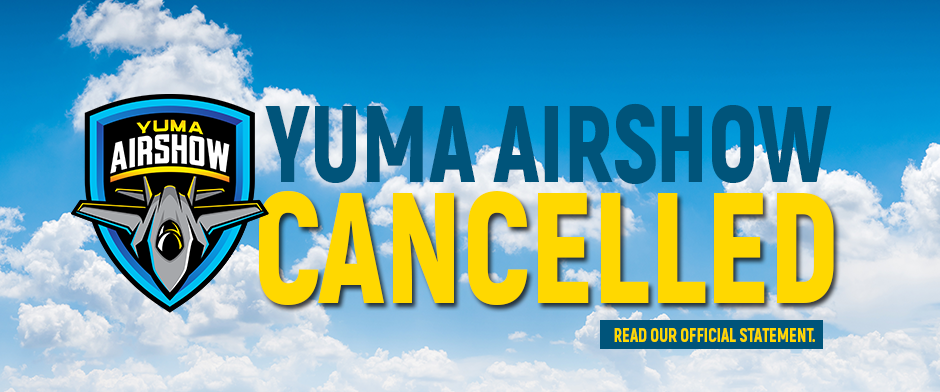 The Yuma Airshow 2022 has been cancelled.
MARINE CORPS AIR STATION YUMA, Arizona (December 31, 2021) –The Marine Corps Air Station Yuma command has officially decided to cancel the Yuma Airshow 2022 in consideration of various constraints related to the global pandemic.
The decision to cancel the Yuma Airshow 2022 came after great deliberation. New variants of COVID-19 are on the rise, and in addition to the uncertainty of what the public health situation could look like in March 2022, the current financial effects of the pandemic were also a contributing factor.
"We were unfortunately forced to cancel our air show last year due to the threat that COVID-19 posed to public health and safety," explained Col. Chuck Dudik, the Commanding Officer of MCAS Yuma. "This year, the effects of the pandemic impacted us in other ways as well."
MCAS Yuma is committed to being a good steward of taxpayer money. Current supply chain and labor shortages have resulted in drastically increased prices for various goods and services to a point where MCAS Yuma could not proceed with this year's air show.
"We look forward to the air show every year as a way for us to give back to the members of the community and invite them to enjoy a display of our military proficiency. The MCAS Yuma staff worked tirelessly planning this year's event and was incredibly disappointed when we determined it is not possible to execute in 2022. The station relies on the support of the community in order to continue to generate combat power and support warfighting readiness, but we have to always be mindful of our financial situation and responsibilities," added Dudik. "We also have to consider what's best for the mission, and with large numbers of Marines arriving for training around March, we just can't accept the risk."
Planning for Yuma Airshow 2023, scheduled for 11 March 2023, has already begun in order to provide the best show possible.
For additional information please contact the Communication Strategy and Operations Office at MCASYuma_Media@usmc.mil .
Planning for Yuma Airshow 2023, scheduled for 11 March 2023, has already begun in order to provide the best show possible.