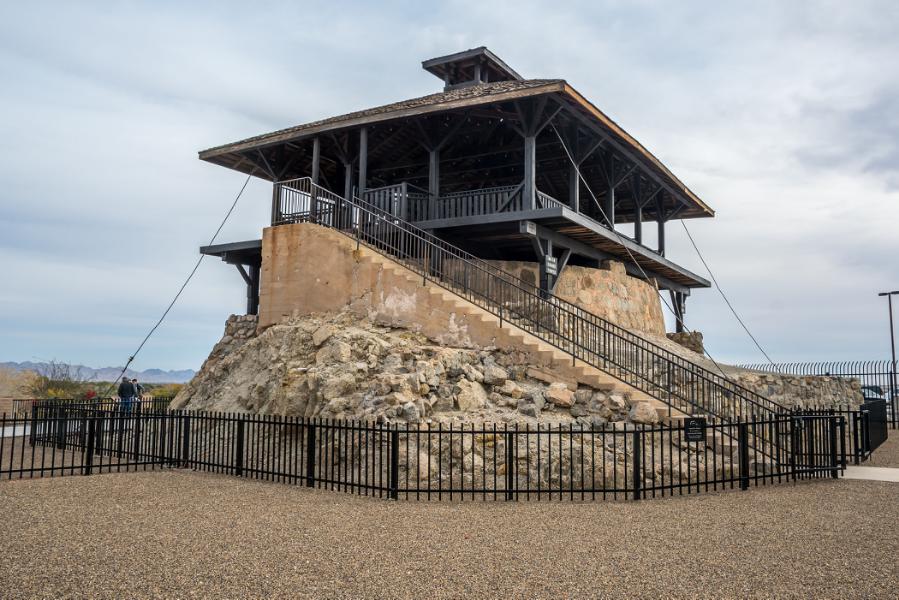 Yuma is rich with indigenous history from the arrival of the Spanish missionaries, to pioneer history, to a look at one of America's great rivers, the Colorado River, Yuma museums and two state historic parks tell Yuma's story.
Colorado River State Historic Park
This beautiful 10-acre park includes five buildings dating back to the Depot's earliest days - among the oldest and best-preserved buildings in the state of Arizona. 201 North 4th Avenue, Yuma, AZ 85364
Yuma Crossing National Heritage Area
180 West 1st Street, Yuma, AZ 85364
Yuma Territorial Prison State Historic Park
Voted as USA Today's "Best Haunted Destination in the U.S.," the Yuma Territorial Prison is a must-see for both ghost hunters and history buffs. 220 Prison Hill Road, Yuma, AZ 85364
St. Thomas Indian Mission
The present-day church was built in 1922 on the site of the mission founded by Father Garcés in 1780. 350 Picacho Road, Winterhaven, CA 92283
Fort Yuma Historic Marker & Quechan Museum
Located in historic Fort Yuma, this museum traces the history of the Quechan through archaeological items and photographs. Located on Quechan Drive, Winterhaven, CA 92283
Cocopah Museum
With attractive grounds and architecture, this museum tells the story of the tribe through their eyes, with original photographs, clothing, and every-day items before the influence of Spanish or United States citizens impeded much on their way of life. 14533 South Veterans Drive, Somerton, AZ 85350
Arizona Historical Society Sanguinetti House Museum and Gardens
Museum in the 19th-century house & gardens of a successful local business figure. 240 South Madison Avenue, Yuma, AZ 85364
Cloud Museum
View the personal collection of Mr. Johnny Cloud, a long time resident of Bard, CA who began collecting in 1989. The collection of artifacts from the past is vast, overwhelming, well organized and incredibly impressive. Located at 1398 York Road, Bard, CA 92283
Museum of History in Granite
The Museum of History in Granite is a museum in the town of Felicity, California. The museum exhibits monuments made from Missouri Red Granite. Each is 100 feet long. Located at Center of the World Drive, Felicity, CA 92283
Castle Dome Mine Museum
An authentic look back in time with the preservation and restoration of Castle Dome City. Sitting on a patented mine since 1871, Castle Dome is the longest worked mining district in Arizona. Walking through this ghost town that has over 50 weather-beaten buildings, will make you feel as if you are a part of history. Located at Castle Dome Mine Road, Yuma, AZ 85365
Children's Museum of Yuma County
We want children all across Yuma to play, explore, and imagine. We care about creating exhibits and programs that emphasize hands-on engagement and learning through experience, employing play as a tool to spark the inherent creativity, curiosity, and imagination of children. Located at 200 South Main Street, Yuma, AZ 85364 https://www.yumachildrensmuseum.com/

Colorado River
Just a handful of Arizona towns can boast a location on one of the most mighty rivers in the United States, the Colorado River. It provides year-round recreation and enjoyment, from wild to mild. From high-speed boating and jet-skiing to calmer sports like kayaking and paddleboarding, to finding your piece of beach for wading during a family picnic, the River provides every opportunity to enjoy its green shore, wildlife, and cool waters. Warm and sunny winters make a great time for boating or paddling, while in the spring and summer, you can make a splash with the wetter options like tubing and waterskiing.
On the edge of downtown, pleasantly calm waters roll along the East and West Wetlands parks, providing tranquil places to stroll or job, gather with friends, or let the kids run off some energy to play in the shallows. Ease of access for tubing, canoeing and kayaking can be found at Gateway Park's beach, Centennital Beach or Playa Linda.
To go a little deeper for fishing or power sports, head north of Yuma to Martinez Lake, Senators Wash, Squaw Lake for public access boat launches or places to put in for canoeing or kayaking. Check out Venture Rec & Rentals for your waterport equipment needs https://yuma.usmc-mccs.org/recreation-fitness/recreation/outdoor-recreation/recreational-equipment-checkout-rentals
If staying overnight along the Lake is what your seeking then check out Venture Lodging at Martinez Lake for accomodations https://yuma.usmc-mccs.org/recreation-fitness/recreation/outdoor-recreation/campgrounds-rv
Kayaking, Canoeing, and Tubing
This is a great way to get up close to wildlife and to take it all in at a slow-flow speed. Whether at the break of dawn or the crest of sunset, any time of day floating along makes for a great bonding experience with friends or family in the great outdoors.
You may spot water birds such as Snowy Egrets, ibis, cormorants, ducks, and geese, and many songbirds amongst the cattails and reeds at the water's edge. Often busy beavers and fat muskrats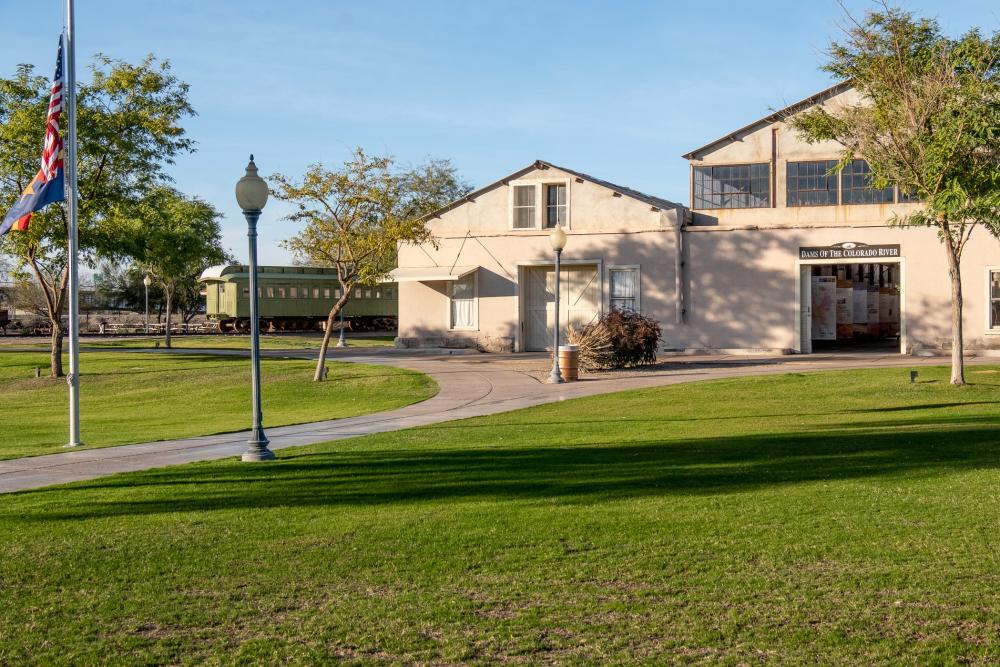 Come immerse yourself in Yuma's rich culture and heritage, rooted in centuries of history. Bask in the sun that shines 310 days a year, perfect for outdoor activities of all kinds. Breathe in the desert air and you'll understand why Yuma is a destination like no other!
Colorado River State Historic Park
City of Yuma Parks & Recreation Department
Yuma Civic Center
Desert Hills Golf Course
Yuma Golf & Country Club
Mesa Del Sol Golf Club
Las Barrancas Golf Club
Cocopah Bend RV & Golf Resort
Ironwood Golf Course
Yuma Conservation Garden and Education Center
Kofa National Wildlife Refuge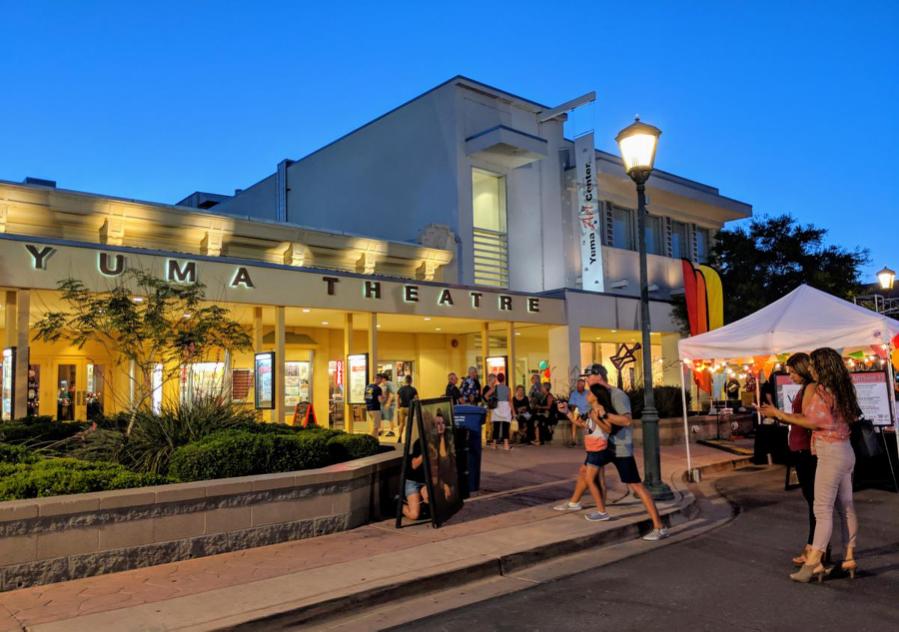 Yuma is proud of it's growing art and artists communities. Gallery shows, murals, public art pieces and a flourishing performing arts culture is directing local artists to paint a new picture of how people view Yuma.
Our winter months provide a busy schedule of performances throughout the day and evenings, from the series of classica chosen by the Yuma Orchestra, to Yuma Jazz Company pop-ups at local restaurants and outdoor venues. Our many festivals and annual events bring even more exposure to the music scene by attracting regional or national acts as well.
Yuma Art Center & Historic Yuma Theater
Home to the Division of Arts and Culture which advances the arts by providing distinct opportunities for community participation and artistic growth. The Yuma Art Center produces theater productions, visual art exhibitions, facilitates performing and visual arts classes, summer mural program, film screening, festival coordination and special events. 254 S. Main Street Yuma, AZ 85364
Yuma Community Theater
The Theater produces works of theater to promote community interest and support of live theater, and to provide opportunities for members to participate in various phases of theater work. 2874 E. 16th Street Yuma, AZ 85364
For outdoor art around town, check out these murals, either on foot or by car.
Endangered Sonoran Desert Species Mural:
Located at Arizona Western College 2020 S. Avenue 8E Yuma, AZ 85365 on the east side of the theater building. The mural was painted by artist, Roger Peet and Phoenix-based Airzonan muralist, Lucinda Hinojos La Morena.
Borderlines Mural:
Located behind The Pint House on South Madison Lane, downtown Yuma. Latina muralist, Lucinda Hinojos La Morena.
Flor del Desierto (Desert Flower) Mural:
Location: 280 S 4th Avenue Yuma, AZ 85364, south side of the Del Sol Market Building. The mural was painted by artist, Adry del Rocio.