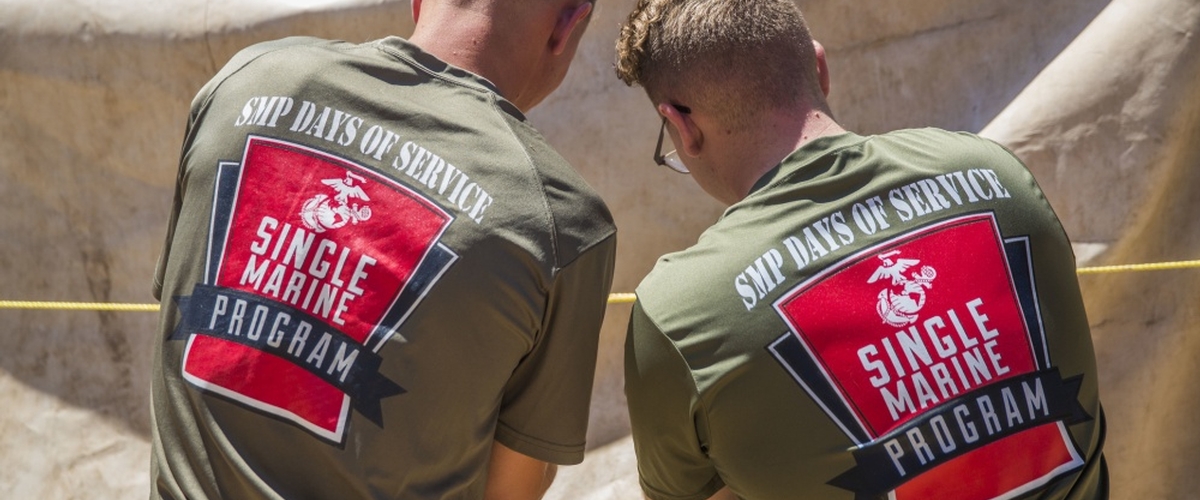 ---
Ever since the inaugural Single Marine Program (SMP) Day of Service began in 2015, Marine Corps Air Station Cherry Point has taken pride in supporting this observance through volunteerism each year. Now a weeklong event, the Cherry Point SMP has scheduled more than 40 volunteer service projects during the 2019 SMP Days of Service, from April 22 to 28. Participants will volunteer with a variety of organizations, especially those focused on hurricane recovery, to mitigate the damage caused by
Hurricane Florence last year.
Among the organizations that Cherry Point SMP volunteers serve is the Veterans Employment Basecamp and Organic Garden. The Cherry Point SMP has been volunteering with the Veterans Organic Garden since the project's start in 2014. SMP volunteers provide support to the Garden on a regular basis, growing fresh fruits and vegetables and helping with garden construction projects like clean-up, painting, lawn machine repair, planting, harvesting, and more. Their efforts directly support local homeless and disadvantaged veterans.
The Cherry Point SMP has partnered with the Veterans Organic Garden during four of the last five years of Days of Service. Last year, the Garden suffered extensive damage from Hurricane Florence. Amazingly, The Pallet House, built by SMP Volunteers, survived the Hurricane and subsequent flooding. This year, Cherry Point SMP Volunteers will complete special projects for Days of Service to rebuild and strengthen the garden structures. On Saturday, April 27, 2019, the Cherry Point SMP will be constructing garden beds out of cinderblock and installing fencing. Interested volunteers can register at www.smp.mccscherrypoint.com.
Find out how you can get involved with SMP Days of Service on your installation this year by contacting your SMP Coordinator.