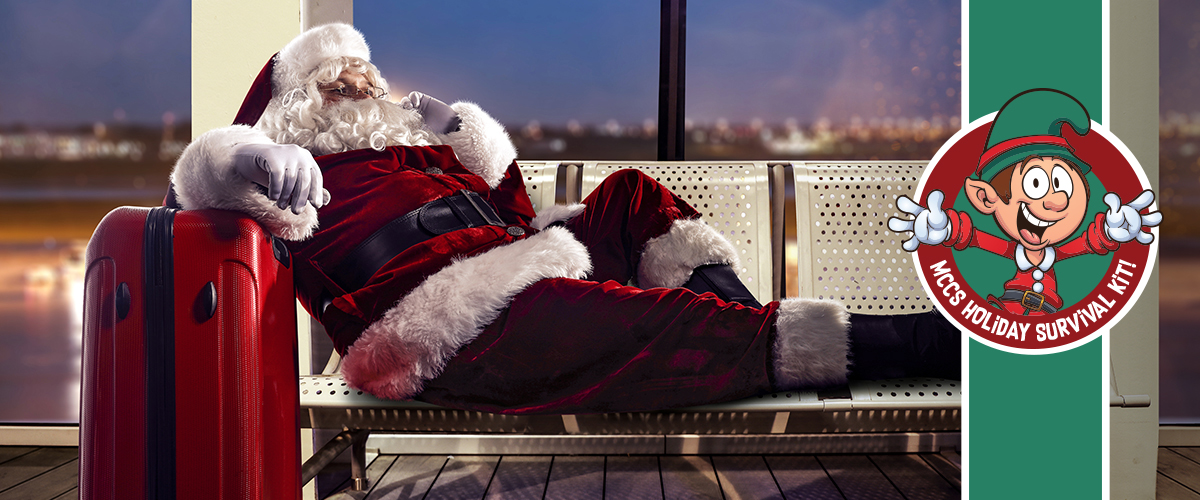 ---
Traveling can be stressful, but the extra crowds at the airport and gifts in your luggage don't have to weigh you down. Check out these tips to breeze through TSA with no problems.
Get to the airport early. During your travels this season, leave for the airport early to avoid increased holiday traffic on the way. Remember that during the holidays, there will most likely be longer lines to check luggage, at TSA checkpoints, and for airport commuter trams. Factor these delays into your travel plans and be prepared by giving yourself more time. This will help alleviate some of that travel stress.
Use your time in line wisely. Channel that Black Friday doorbuster energy while in the security line. You can use this time to prepare large electronic items and liquids larger than 3.4 liquid ounces/100mL to be removed from carry-ons for screening. If your airport requires the removal of shoes, belts, or anything in your pockets, preparing while in line can help speed up the process. Also, make sure that every member of your traveling party has appropriate ID and boarding documents accessible. If traveling with small children, a parent's I.D. will be required with each child's boarding pass. Reusable drink containers, like water bottles, can be refilled at water fountains (for free) throughout most airports, saving money and time in line at concession stands. Talk to your children who may be first-time flyers about what to expect during the screening process to help them get through the TSA line smoothly.
Avoid wrapping paper. You may not be arriving on a sleigh like Santa, but you can still bring bags of gifts with you! Literally. According to the TSA, you can travel with gifts that are wrapped, however, wrapped gifts requiring additional screening will be unwrapped by security agents. This rule applies to carry-ons as well as checked luggage. To avoid this issue, consider using gifts bags or boxes that will allow TSA agents to easily screen the item without damaging any of your hard wrapping work. Gift bags can also easily be folded and fit into the outer pockets of your luggage. Another way to avoid this issue is to ship items to your destination before you leave. If ordering from an online retailer, this could mean free shipping in addition to less hassle at the airport.
Know the rules for traveling with food. Are your world-famous gingerbread cookies in tow? If your contribution to the holiday feast complies with the 3.4 liquid ounce (or 100mL) rule, you are free to travel with it in carry-ons. According to the TSA, the rule of thumb for food is: "If you can spill it, spread it, spray it, pump it or pour it, then please pack it in your checked bag."
Don't pack vapes in your checked luggage. The FAA prohibits battery-powered e-cigarettes, vaporizers, vape pens, atomizers, and electronic nicotine delivery systems in checked bags. They may only be carried in carry-on baggage or on your person. If your carry-on ends up being checked at the gate or planeside, remove all electronic cigarette and vaping devices from your bag and carry them onboard with you.
Pack smart. Don't make TSA agents have to play Grinch. The list of prohibited items does not change during the holiday season. If you have questions about what is allowed, the TSA is available to answer your question, even before you fly.
Tweet a picture of the item you have questions about to @AskTSA.
Send a message to @AskTSA on Facebook Messenger to ask about an item.
Call the TSA Contact Center at 1-866-289-9673. They also provide help in several languages.
Download the myTSA app and look for the "What can I bring?" feature.
For more information from TSA, you can also view this news release. Safe and happy holiday travels!