The Auto Hobby facility is a state-of-the-art DIY automotive center available for you to work on your cars, trucks, motorcycles, and more. The Auto Skills Center (Hobby Shop) provides facilities, tools, equipment, diagnoses, assistance from trained staff, and instructions to patrons for repair and maintenance of personal motor vehicles (POV).
Technicians are available at most times to help guide you through a variety of mechanical repairs, such as oil changes, tire balance/rotations, brake replacements, or even rebuilding your entire engine. A full line of OEM or specialty performance parts are available. Not just for cars anymore, we have motorcycle lifts and tools for all your street and off-road bike repairs. We're here to help you save time and money.
This facility is for Active-Duty Military, Dependants, Retirees and DoD Employees. Closed toed shoes must be worn at all time when within the facility.
Safety glasses are required.
Self-Help Services & Rates
Vehicle Flat Stall (No Lift): $4.00 per hour or $75.00 weekly
Vehicle Lift Stall: $8.00 per hour or $150.00 weekly
Storage Overnight: $8.00 per day- Limited to 10 days maximum
Storage Lockers
Inside Storage (only while work is in progress)
Welding Room: $4.00 per hour
Welding Room: Mig/Stick: $10.00 per 6 minutes (per click)
Gas: $10.00 per hour
Plasma Cutter: $10.00 per 6 minutes (per click)
Tire Mounting: $5.00
Tire Balance: $4.00
Equipment:
*Some equipment is restricted from patron usage and requires trained auto service staff assistance and/or informal qualifications.*
2 Post and 4 Post Automotive Lifts
Brake Lathe
Engine Hoist
Tire Balancer - Tire Changer
Hydraulic Press
Coil Spring Compressor
*A/C Equipment*
*Brake Lathe*
*Front End Alignment*
*Scan Tools*
*Welding*
*Charging/Starting Test*
*Transmission Flush*
*Cooling System Flush*
*Fuel Injection Cleaning*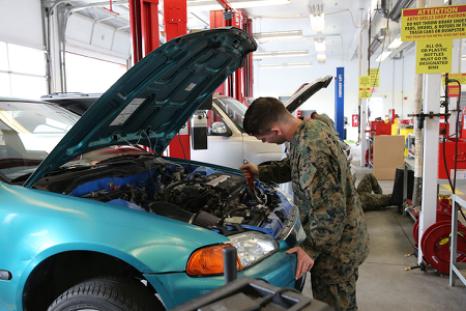 Regular Hours
Sunday
CLOSED
Monday
8AM–7:30PM
Tuesday
8AM–7:30PM
Wednesday
8AM–7:30PM
Thursday
8AM–7:30PM
Friday
8AM–7:30PM
Saturday
8AM–7:00PM
Closed Federal Holidays
WTI Hours
Sunday
CLOSED
Monday
8AM–8PM
Tuesday
8AM–8PM
Wednesday
8AM–8PM
Thursday
8AM–8PM
Friday
8AM–8PM
Saturday
8AM–8PM
Closed Federal Holidays