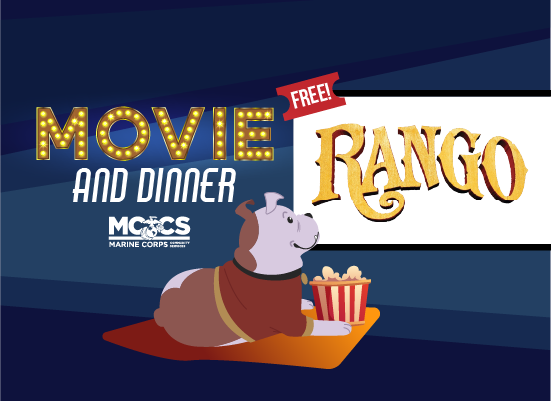 Come in out of the heat and watch Rango in The Club! Bring your chairs and blankets!
Registration Dates: May 30, 2023 to June 23, 2023
No outside food or beverages are permitted, The Club will have their regular dinner menu available for additional purchase.
FREE Dinner will consist of a hamburger/cheeseburger, potato chips, chocolate chip cookie and assorted beverages.
Registration now at: https://www.eventbrite.com/e/free-movie-rango-dinner-the-club-tickets-646325114817
FAQ's
- Is registration required?
To ensure enough space and meals, registration is required for this event.
- Who may register for this event?
Active duty, dependents, and other authorized patrons.
- How many tickets do I need?
You will need one (1) ticket for each person in your group attending.
- When do I show up?
Seating opens at 5:30pm and the movie will begin at 6pm
- What should I bring with me?
We encourage you to bring blankets and low-back chairs for first come, first served open seating.
- What ages is the event appropriate for?
The Movie Night & Dinner is appropriate for all ages.
- What will I receive at this event?
You will receive dinner consiting of a hamburger/cheeseburger, potato chips, chocolate chip cookie, assorted beverages and a fun family movie experience.
- Will there be additional food or beverages available for purchase?
The Club Bar & Grill will offer their normal dinner and beverage menu for additional purchase.
- What happens if I can't make it to this event?
We ask that you return your ticket so another family can enjoy the event.
*Details are subject to change the day of the event.